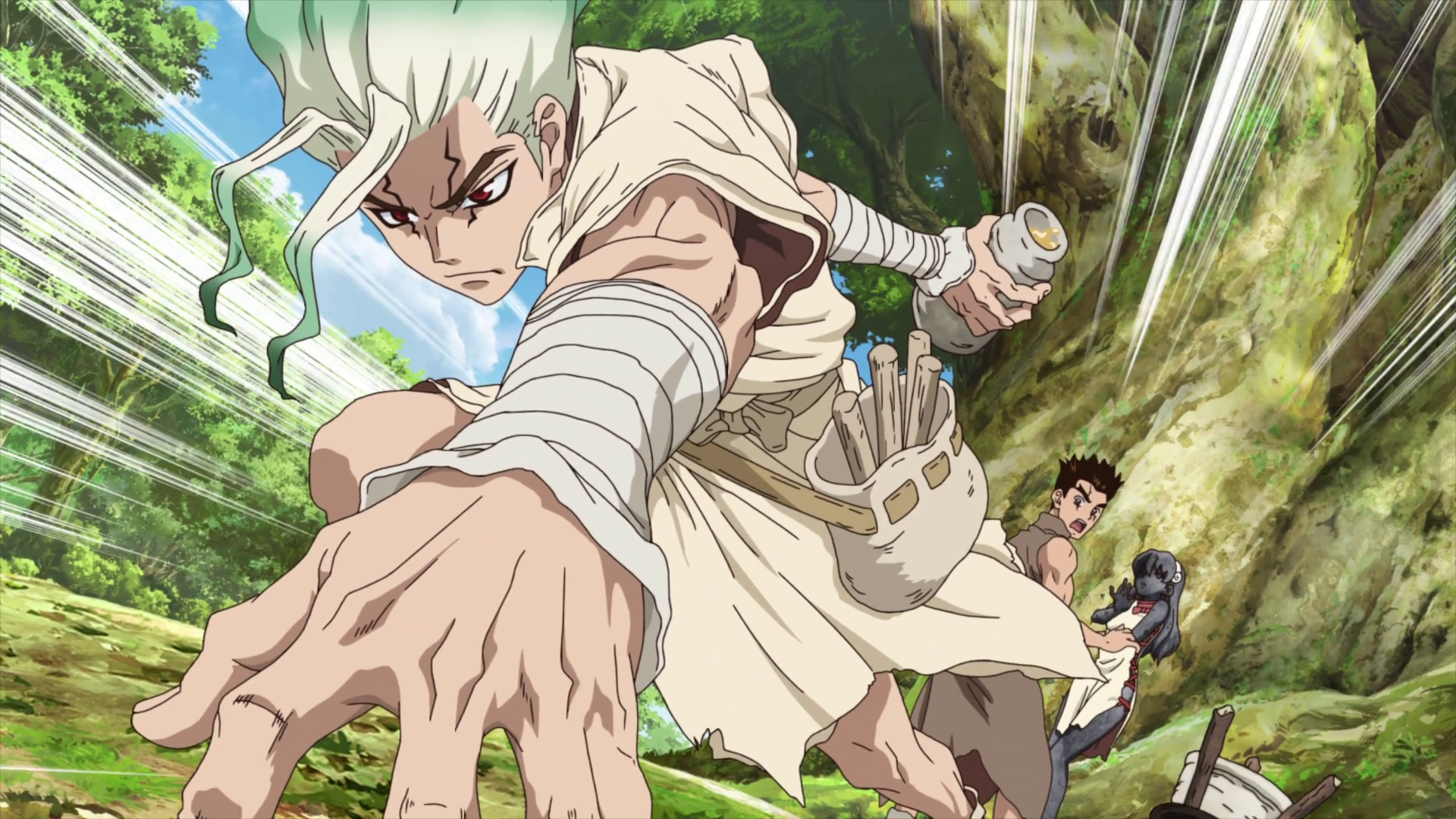 The first season of Dr. STONE was two cours composed of 24 episodes. A "cour" is a three-month TV broadcasting unit based on the physical seasons and animes usually have between 10 to 13 episodes per cour. Dr. Stone season 2 has been confirmed!
Beginning with Dr. STONE Episode 14, the second cour of Dr. STONE premiered on October 4, 2019. Dr. STONE Episode 18 began the Stone Wars story arc. The ending of the second cour, Dr. STONE Episode 24, aired on December 13, 2019.
In early December 2019, Weekly Shounen Jump began teasing that the Dr. STONE manga series would be making an "important announcement" when the latest magazine edition released on December 16, 2019. Considering that the anime's first season is leaving audiences hanging in the middle of the Stone Wars arc, did we really have to guess what that announcement might be?
The anime series is already popular enough that there's a 10 billion percent chance it could be annually renew similar to Attack On Titan or My Hero Academia. Plus, the anime was made on alcohol so it can't be bad. No, seriously, that's what the anime producers have claimed.
Thankfully, anime fans probably won't have to take too many drinks before hearing more news about Dr. STONE Season 2. It's likely that the same cast and staff will be returning for the Dr. STONE sequel.
The first 24 episodes will come out to be a six Blu-Ray/DVD home video volumes in Japan. The first disc volume released on October 16, 2019, giving us an idea of how popular the anime series is in Japan.
Dr. STONE season 2 Release Date
As of the last update, TOHO animation, Shueisha, TMS Entertainment, Shonen Jump, or any company related to the production of the anime has not officially confirmed the Dr. STONE Season 2 release date. The production of a sequel was initially announce in Weekly Shonen Jump.
Once the news is officially confirmed this article will be updated with the relevant information. In the meantime, it's possible to speculate about when, or if, the Dr. STONE S2 premiere date will occur in the future.
Lately, it seems like there is a trend in the anime industry to announce the renewal of an anime series for a second season immediately following the finale episode. That trend continued with Episode 24 teasing the Dr. STONE: Stone Wars anime, but the teaser didn't even hint at a release date or time frame for Dr. STONE Season 2.
Considering that the official Chinese Dr. STONE Weibo account claimed a "continuous broadcast" it's possible the anime could receive The Rising Of The Shield Hero treatment and receive both a Season 2 and a Dr. STONE Season 3. After all, the manga currently had enough source material for DR. STONE Season 2 even before the first season's second cour started airing.
By 2021 there will be over 200 chapters available which should be enough for creating Dr. STONE Season 3. Therefore, in the best-case scenario, it's possible Dr. STONE Season 2 could be set to release in January 2020. If there's a small broadcasting break, Stone Wars could release in April 2020. Dr. STONE Season 3 could then release in late 2020 or the following year in early 2021.